News:
WREA GREEN TENNIS CLUB is now in its 65th year and remains a popular sporting venue within the village. Situated in Mill Lane, the Club is open to tennis players from both the village and beyond; it currently has approximately 200 members. The Club was founded in 1956 on a piece of land donated by the Birley family who at that time lived at The Villa, Wrea Green. Originally consisting of one hard tennis court and a pavilion-style clubhouse, the Club has gone from strength to strength over the years and now has three all-weather courts and a pavilion, opened in 1999, which was built with the help of money from the National Lottery. The Club is affiliated to the Lawn Tennis Association.
Adult Tennis
The Club enters teams in the local Fylde League (2 men's teams and 2 ladies' teams) and one mixed team in the Ribble Tennis League. Adult social tennis is played on Sunday and Wednesday mornings. Additional social tennis events are held throughout the summer. Adult coaching sessions are provided for a small charge, details on request.
Junior Section
There is a strong junior section within the club, with approximately 50 junior members. An 8-week course of coaching is available free of charge for our junior members on Saturday mornings starting on the 30th March. We have Junior teams for both boys and girls in the Fylde League.
Subscription Rates
Subscriptions for the season 2021-22 are as follows:-
Family membership £165.00 Couple £145.00
Full £87.00 Student £30.00
Junior £30.00
There is also a joining fee of £20 per family, £20 couple, £20 full, £10 Student or Junior.
If you would like any more information on the tennis club please contact the Club Secretary – Mrs Margaret Sanders Tel. 07531 142624 or email: [email protected]. You can also visit our Facebook page.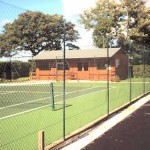 N
ew Aerial Picture: