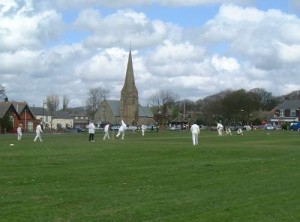 Wrea Green Cricket Club is a village institution and synonymous with the name and image of Wrea Green. The club was founded in 1905 and a fantastic week of centenary celebrations took place in July 2005. An action-packed week united most of the village with a large marquee erected on the Green to host sell out events.
Famous names to have played for the club in the past include ex-Preston and England football legend Joe McCall (who was the first batsmen to score a century for the club) and more recently, former rugby union star Bill Beaumont OBE.
Neil Withington has extensively researched the 100 years of cricket in the village and published a book called "Win or Lose, Plenty of Booze" which chronicles some of the key events and characters in the club's history. This book is available from the club direct or from Silverdell Bookshop in Kirkham.
The senior section runs 3 sides. Matches for the 1st and 2nd XI's take place on Saturday afternoons from April till September. Matches for the 3rd XI take place on Sunday afternoons from May till September. All home matches are played on the village green.

Senior Net practices are held on the Green every Wednesday during the season, ground permitting. Any new players are always welcome to attend nets practices.
The club has a thriving junior section catering for boys and girls aged from 5 to 17. Practices take place on the Green every Friday night from the beginning of April till the end of August. We are a community club with most of our members from the village or surrounding area. The club competes in the Palace Shield Junior League with teams at Under 11's, 13's, 15's and 17's as well as having a Kwik Cricket section for those too young to play in the age group sides. Anyone who would like more details should contact Rob Parr or Dave Uphill on the numbers listed below.
The club has a dedicated website at: http://wreagreen.play-cricket.com with a wealth of information.
Club Officials

President:
Arthur Laycock
1st XI Captain:
John Lyon
Chairman:
Richard T Wilson
Vice Captain:
Tim Phillips
Vice-Chairman:
Richard Cookson
Secretary:
Janet Wardell
2nd XI Captain:
Matt Roberts
Treasurer:
Rob Parr
Vice Captain:
Paul Chapellow
Junior Reps:
Dave Uphill 671359

Rob Parr 683647