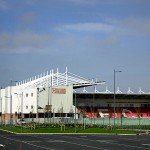 Football
The nearest professional football club to Wrea Green, are the Seasiders of Blackpool. The Bloomfield Road stadium is approximately 6 miles away.
The ground, for a long time one of the most run down in the entire football league has undergone significant redevelopment in recent years. Two new stands were completed in 2002 giving a long overdue facelift to the stadium. A third redeveloped stand was opened in 2009 and Blackpool are currently finishing the final part of the ground to befit their newly acquired premier league status.
Blackpool were the Cinderella story of the 2009/2010 season and now compete in the premier league. The club averages around 15,000 fans for home games.
Preston North End also attract a good local following. Preston currently play in Division 1 at Deepdale. Deepdale has also undergone extensive redevelopment over the last few years and Preston attracting around 10-11,000 fans for home games. Deepdale is approximately 10 miles from Wrea Green. Preston are managed by Darren Ferguson, the son of Sir Alex Ferguson.
Blackburn Rovers' Ewood Park is around 25 miles from Wrea Green, and the village is also withinin easy driving distance to the North West giants of Liverpool, Everton, Manchester United and Manchester City.
Non-league AFC Fylde are also popular with locals.
Rugby Union
The two local clubs are Fylde (based at Lytham) and Preston Grasshoppers. Both clubs enjoy support from the village. Both sides play in Division 1 North of the Rugby Union structure.
Cricket
Lancashire bring first class cricket to West Lancashire each year. Lytham & Blackpool Cricket Clubs host a county game on alternate years.
Golf
Royal Lytham is one of the most famous golf clubs in the country and regularly hosts the Open Championship. Some players have even stayed in Wrea Green during the tournamount with a previous winner (Nick Price) seen practising on the Green several years ago.
Old Links at St.Annes also plays host to some of the major qualifying tournamounts.