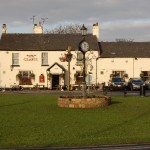 Wrea Green's close proximity to Ribby Hall, Kirkham, Preston, Blackpool and Lytham St.Annes means that there are plenty of things to do.
For lovers of food and drink, the famous Grapes Hotel always provides a warm welcome. On Station Road, Wrea Green Institute provides a friendly atmosphere and an inexpensive pint. The Villa has a large, recently refurbished bar and restaurant and The Thai Restaurant (also on Station Road) is now a well established village favourite. Within a short walk are the bars and restaurants at Ribby Hall Holiday Village, not to mention the popular Birley Arms and Rigby's Farmhouse.
Click here for pubs and restaurants.
As a small Rural Fylde Village, Wrea Green has few shops to speak of.
The local village store is part of the SPAR chain of shops and acts as a newsagents, post office and grocers. It is one of the hubs of village life. There is also a general convenience store at Ribby Hall.
Click here for shopping information
There are a number of other businesses in around the village.
Click here for the Wrea Green Business Listings.
Click here for Walks, Wonders and the history of Wrea Green