Welcome to the new Wrea Green village website.
Wrea Green is a small village with a resident population of around 2,000, approximately 866 homes, the largest village green in Lancashire including a large duck pond (known to locals as 'The Dub') that is home to a fluctuating number of well fed ducks.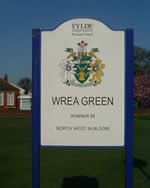 An award winning village…
The village has won "Lancashire's Best Kept Village" award on numerous occasions and is one of the prettiest and most active in the county.
Best Kept Village Winners: 1959, 1965, 1966, 1968, 1972, 1980, 1986, 1987, 1993, 1996, 2001, 2005, 2009, 2010, 2012 and 2018.
Best Kept Village Runner-Up: 1971, 1974 & 1991
Location…
The village is situated in the heart of the Rural Fylde, a region of Lancashire, North West England.
Wrea Green is in close proximity to the coastal town of Lytham St. Annes, the historical market town of Kirkham and the larger conurbations of Blackpool and Preston.
This Website
The website has been updated, but if you find any of the content is incorrect or would like to submit information, please forward to the editor. We welcome contributions!
Follow this link for Harry Fenton's Wrea Green Facebook page. Not necessarily the PC views: www.facebook.com/wreagreenvillage/