Ribby Hall Bowling Club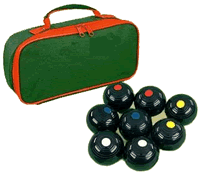 Did you know that Wrea Green not only has its famous Green but also has an excellent crown bowling green at Ribby Hall? Nine years ago the Holiday Village complex created a pristine new green near the entrance to their site and this is now the base for a thriving bowling club, enjoyed both by Ribby Hall residents and also by Wrea Greeners and those from the surrounding area. The Ribby Hall Bowling Club was founded in 2000 and currently runs four teams, playing on Monday and Thursday afternoons and Tuesday and Wednesday evenings in local leagues.
These teams have enjoyed considerable success; the Wednesday team, which plays in the Fylde League, has had a remarkable record since formation in 2000 being Div 8 Champions in 2002, Div 7 Runners-up in 2003, Div 6 Champions in 2006 and Div 5 Champions in 2007. Continuing interest in bowling led to entry of an afternoon team, playing on Thursday afternoons in the Lytham St Anne's Veterans League in 2002; this team was promoted from Div 2 to Div 1 in 2004.
Continued enthusiasm saw another team formed in 2003, playing on Tues nights in Division 4 of the Welcome League; this team won promotion to Div 3 in 2006. Finally, in 2005 came a fourth team playing on Monday afternoons in the Welcome +50 Years Bowling League.
The club is active in many ways other than league games and this year looks forward to a number of friendly games with local teams; the annual dinner is always held 'on site' in the Autumn and is an event to be enjoyed.
Officers of the club include Alan Greening (President), Bob Hetherington (Chairman), Eddie Moore (Secretary and Captain Wednesday Evening Team, Tel:- 01772 686458), Norman McLean (Treasurer), Peter Thomas (Captain Monday +50 Years Team), Les Pickles (Captain Tues Evening Team), John Brooke (Captain Thursday Veterans Team).
If you are interested in joining the club either as an active team member or just coming along to one of our totally informal daytime 'roll-ups' then please contact any one of the club members or ring Eddie Moore.